Support for difficult-to-cut materials used for structure reinforcement and weight savings
In the aeronautics industry, advances are being made particularly in structure reinforcement and weight savings by using difficult-to-cut materials such as titanium alloys and Inconel, etc. In addition, this field involves many parts with complex shapes, and therefore requires a high level of manufacturing technology.
At S-TEC, in order to machine difficult-to-cut materials and complex shapes, we design, make and inspect special tools in-house by working with tool builders. As a result, we are able to develop our own unique machining technology. By combining our craftsmanship with state-of-the-art equipment, we are able to not only achieve a high level of precision and a high quality product, but we are also able to continually improve our technology every day by trying to reduce costs and shorten the machining process.
At S-TEC, we specialize specifically in difficult-to-cut materials as well as products with complex shapes, and we actively take on product orders which other companies find difficult.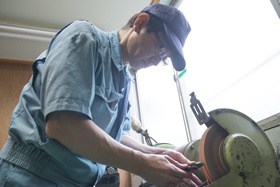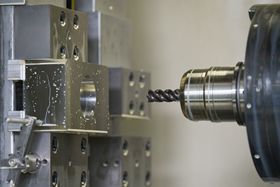 Manufacturing aerospace equipment parts using JIS Q 9100 standard management
S-TEC has acquired JIS Q 9100 certification (aerospace/defense quality management standard), and we are involved with manufacturing a number of aircraft parts.
In the aeronautics industry, we not only use many difficult-to-cut materials such as titanium and Inconel, but we are also required by the industry to apply high precision technology to many products with a high degree of difficulty and special configurations.
For aerospace equipment, we provide extensive management systems, in addition to machining technology, such as our quality management system and quality assurance system, in order to meet the requirements of this field.
At S-TEC, we have amassed approximately 25 years of experience in the field of aircraft equipment parts. We ensure product quality and precise dimensions, and we have received high praise for our quality assurance system.
Recent years, by gathering all accumulated technologies, we have introduced a swivel joint for an aircraft which has been designed, tested, and developed in-house. The AMI material is use to develop while screw portions and hydraulic oil are made to follow MIL standard.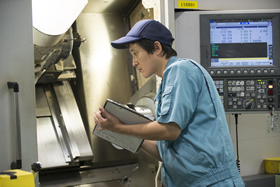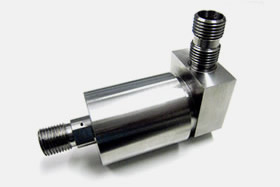 Acquisition of Nadcap certification
S-TEC had acquired a Nadcap Certification (Nondestructive Testing) on December 2017.
Nadcap is the leading worldwide cooperative program of major companies designed to manage a cost-effective consensus approach to special processes and products and provide continual improvement within the aerospace and defense industries. It conducts more in-depth, technically superior special processes audits.
The products we manufacture are very important, and it is our priority to satisfy our clients by a credible quality control proved by Nadcap.