Message from the President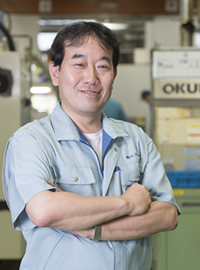 The manufacturing industry is currently in a global recession, and we believe it is necessary to become involved with future industries and markets in order to overcome the current situation.
The aerospace industry is one of those industries. Even now, there are a number of requests for developing civilian or commercial aircrafts as well as manned satellites and international space stations, etc. In addition, the aerospace industry always requires us to pursue and achieve cutting edge technology.
S-TEC has an extensive management and training program in place to develop each employee into an excellent technician, and we always strive to offer products that satisfy our customers' needs .
Corporate profile
| | |
| --- | --- |
| Company name | S-TEC Co., Ltd. |
| Location | 385-2 Fushimi, Shimizu-cho, Sunto-gun, Shizuoka-ken 411-0907 (Japan) |
| President | Seiichi Suzuki |
| Founded | 1971 |
| Capital | 10 million yen |
| Factory size | 1,000 square meter |
| Employees | 40(As October of 31, 2016) |
Corporate history
April 1971 - Established Suzuki Tekkojo located at 61-4 Takehara, Nagaizumi-cho, Sunto-gun, Shizuoka-ken.
July 1979 - Set up Suzuki Tekkojo Ltd. at the same location (with 1 million yen in capital).
September 1989 - Established Factory No.2 located at 626 Honjuku, Nagaizumi-cho in order to expand factory equipment and facilities.
April 1991 - Increased capital to 3 million yen.
December 1993 - Increased capital to 10 million yen to expand operations. Changed corporate name to S-TEC Co., Ltd.
May 2002 - Purchased own factory and relocated to 385-2 Fushimi, Shimizu-cho, Sunto-gun, Shizuoka-ken, in order to expand operations.
August 2018 - A larger and more accessible head office and main plant are to be established in Kumaiden,Shimizu-cho,Sunto-gun, Shizuoka-ken. We will cover a wider range of works and increase production capacity for worldwide customers.
Access map